R. Spain - Romance In Esrever (Reverse)
Welcome to my Den. I hope you enjoy my selection and be sure to come back, it's always growing! 
Don't like RH? No problem, we have a few M/F options as well. 
My mother taught me a lot in her short lifetime. She taught me how to dance, how to be proud of myself, she even taught me how to get any guy I could ever want. Want to know what she didn't teach me? That monsters were very much real, and that they were beautiful. I don't mean the cruel human kind of real, I mean the bite you, hypnotize you, and steal your sin kind of real. I guess there really are some lessons that your parents can't teach you. 
My entire world flips upside down, and naturally, I just roll with it. One thing I won't roll with? People trying to tell me where I belong. That didn't work out for the humans, and it won't work here. Osnadurtha Academy may be a school for the supernatural, but they ain't seen anything like me yet. Bring it, I dare you. 
Scarlet's series is undergoing brand new edits, adding content, and new blurbs to spicing her up a bit. 
They told me I would never be welcomed back. They called me weak because I was different, they called my mom broken for giving their pack me. My entire life has been head down, mouth closed, and stay away from the others. 
My own mate decided I was weak and promised himself to another. 
None of this bothers me though, my wolf mourned her mate and we left the Halfcrest pack behind. Now, I want answers more than a place to call home, and I have finally found someone who can give them to me. 
It turns out my pack is hunting me again, finally everyone knows exactly how much of an abomination I am. The jokes on them though, Ralee Danvers' isn't weak. I never was, I allowed myself to appease them.
Now that I know the answers to the truth? They will never own me again, I'm not an abomination, and this is my call for my vindication. 
Crave Me Duet ; Vicious Five Series
Naomi Blackwood
My family is well known in the underworld. The Blackwood's are a legacy built in blood, making us one of the five greatest families in the world. My senior year of college was meant to be my last hoorah before I was forced into a career path I didn't want.
Who wants to be a doctor? Clearly, not me.
I'd rather feel the blade as I take a life rather than save it. However, changing schools my last year was forced upon me when my father got word of something very interesting. One of his families has been lying to him, and it's my job to find out why.



Vincent Youngblood
My family name is feared, and I don't know why. That isn't to say that I actually care about the reasoning. I enjoy the power of it too much to give a damn about the rest.
My brother and I have no family besides an uncle that is never around. When a red head comes to my brother's college and shakes things up, I decide to get some answers. Funny thing? No one is speaking. All of them are too scared of who this girl is.
It isn't until I meet her that my body craves to own her. She's got a smart mouth, but her soul? That's going to be mine, whether she likes it or not.
People don't care about you unless you're popular or dead.
If I had a motto, that would be it. I used to be the 'good girl.' I never got into trouble, I always used my manners, hell, everyone doted on how lucky my father was with me.
It's a shame that all changed when I realized no matter what I did, I was nobody. Cresthill High is your typical school for the privileged. Thing is, when everyone around you has the same amount of wealth, it tends to be tricky deciding the pecking order.
I had money, I had status, I just didn't have friends. The Stripes made sure I was dealt a heavy dose of humility. I was 'too wholesome' to be one of them, so I was crushed like I was no one.
Good thing girls like me adapt. Now, I'm the town's bad girl, the rebellious one. Oh, it's just so much more fun that way.
Rebellious is a HIGHSCHOOL reverse harem romance. This series will deal with darker content. M/M scenes will be added as the books continue.
TRIGGER WARNING This book WILL contain acts of violence that can upset people. The following are to warn you before you open the pages that lay inside this book.
* Rape
* Sexual Slave Trading
* Abuse – of all kinds
* Kidnapping
* F/F actions
* M/M actions
* Murder

Now that you have been warning, proceed into Cresthill High. 18+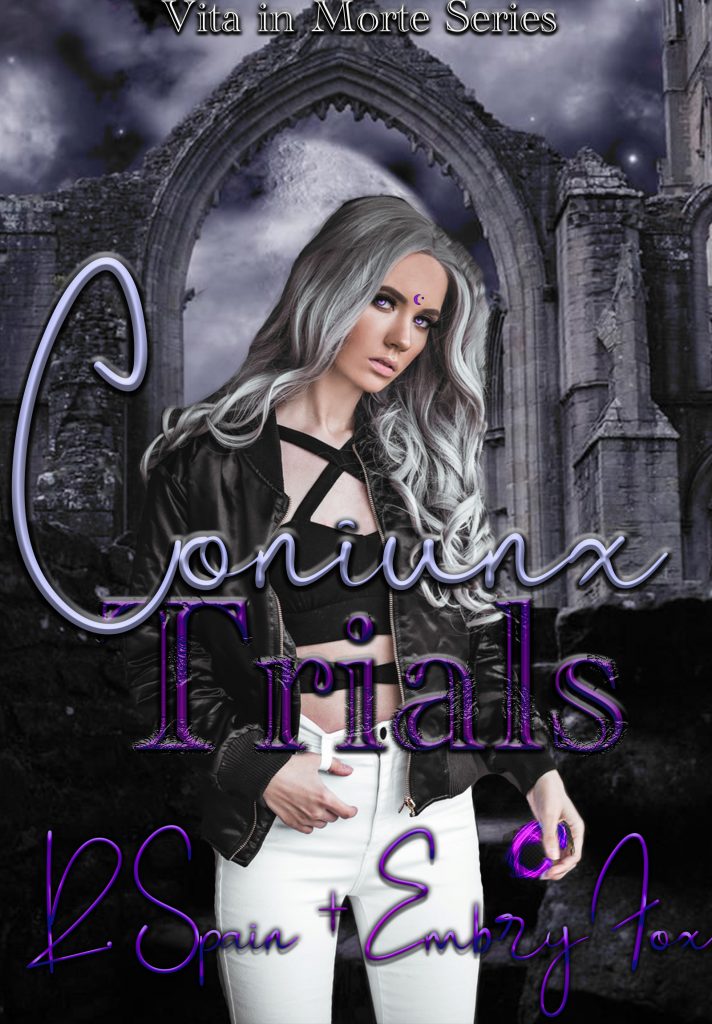 On the eve of my wedding, everyone I loved met Death– including me.
I had successfully found a mate in the trials, we were to be wed and I'd have to wait a decade before I could reapply. Except, we all died and I spent six months in a tomb surrounded by the corpse of my mate and family members. No one knows how my living is possible, I'm a Light Fae, I should have joined the spirits when I passed.
I didn't, and my survival has flipped everything inside out.
It's time for the trials again, and I've spent a decade with questions, but no answers. The Coniunx Trials may be my only chance to find out what's happened to me, and I won't let anything stand in my way.
Vita in morte sumus inveniet – In death we find life.
Please be advised this is an RH PRN fantasy that contains mature themes. It is recommended for readers 18+.
Thunder Ridge Highschool.
Would you believe me if I told you the girl doesn't bow in this story? Most don't, but in this one, I'm the person who's in charge. The snobby pricks across the way at Crest Hill don't know what a pecking order is. They've taken it among themselves to claim a crown that was never theirs. The Stripes are the least of my worries though, a new gang has strolled into town. They claim Thunder belongs to them now.
What I didn't expect? The new kid that comes to school is fine as sin, but he is also way too perfect to fit in here. I almost called Nevaeh to remove him from my halls in fear that he was going to be lunch meat before the day was over. I eventually learned his name is Forrest, and he is gorgeous. Too bad he is as wholesome as a Sunday afternoon in church, and I'm the devil incarnate.
Welcome to Thunder Ridge, Forrest. I can be your greatest ally or the biggest thorn in your side.
• This will be more of a Poly relationship. That means that each character will have outside relations with permission from the FMC that they eventually bring INTO the harem. There is communication and a lot of back and forth on who is and isn't inside the poly group. They have their own dynamic and at no point is 'cheating' a problem to our characters. Please note, I specifically said to the characters meaning you may feel like it's cheating but Naliea and the males do not as it's THEIR approved dynamic. If you're triggered by the mention of abuse, mental illnesses, cussing, and detailed sex please do not read this book. 18+.